Toronto, November 14th, 2023 – Canadian Copper Inc. ("Canadian Copper" or the "Company") (CSE:CCI) is pleased to provide an update on its ongoing property-wide 2023 trenching program at the Murray Brook West Project ("MBW") in the Bathurst Camp of New Brunswick, and recent developments regarding the Caribou Mine restructuring process.
"Early-stage exploration combined with increasing our in-situ resources at the large open pit Murray Brook deposit is integral to our growth strategy. The Murray Brook West Project borders Canadian Copper's +21 million tonne resource positioned along the 18 km favourable Caribou Horizon trend between two former mines: Caribou and Restigouche. With several parties interested in restarting the Caribou Mine, we are enthusiastic about the renewed interest in the prolific Bathurst Camp." Simon Quick, CEO of Canadian Copper. 
Murray Brook West Regional Program Update:


The Company exploration team and equipment mobilized in late October 2023 and commenced both active prospecting and deep trenching across key target areas (Figure A).
To date, five trenches for 640 meters has been completed. Thus far, three sites exhibit disseminated pyrite, minor galena, and sphalerite at surface within the Caribou Horizon which is the primary host lithology to the Caribou Mine, Restigouche Mine, and Murray Brook deposit (Figure B).
Targets were developed using a combination of surface lidar, geophysical surveys (gravity, electromagnetic, and magnetic), and following the prospective favourable Caribou Horizon lithology.
Toll Milling Murray Brook to the Caribou Mine


The Caribou Mine has utilized toll milling for many years, sourcing feed from the open pit Restigouche Mine which is located 25 km to the southwest of the Caribou plant facility. In total, approximately 850,000 tonnes of Restigouche ore has been processed at the Caribou mill under this strategy since 1997[1]. Toll milling scenarios are well received in the region as a means to leverage existing transportation and refining infrastructure. Canadian Copper's open pit Murray Brook deposit is located approximately 10 km to the southwest of the Caribou Mine, half the distance as Restigouche, and uses the same highway.
As of December 31st, 2021, the Caribou Mine had Proven and Probable reserves of 4.1Mt at 5.85% Zn, 2.17% Pb, and 66 g/t Ag[2] or approximately a 4-year reserve life. The Company believes that its Murray Brook deposit (21.1 Mt at 0.50% Cu, 2.46% Zn, 0.89% Pb, 0.54 g/t Au, and 39 g/t Ag[3]) could provide additional mine life and much needed operational flexibility to any future operator of this facility.
Caribou Mine Restart Interest


On October 18th, 2023, FTI Consulting Canada Inc[4]. ("FTI"), in its capacity as the court-appointed monitor, reported three expressions of interest from parties wishing to acquire and restart the former Caribou Mine, located 10 km from the Company's Murray Brook deposit (Figure C).
"15. e) prior to the offer deadline, the Receiver received four offers from auctioneers and three expressions of interest from parties wishing to pursue an acquisition of the Caribou mine with the goal of restarting operations.
16. Given the interest from parties seeking to restart the Caribou mine, the Receiver delayed advancing an offer with an auctioneer to allow parties interested in restarting the Caribou Mine an opportunity to engage with DNRED regarding issues related to the continued operation of the Caribou mine."
[1] Press Release titled: "Trevali Mining Acquires Mining Lease for Former Restigouche Zinc-Lead-Silver Mine in New Brunswick" dated July 27, 2017. https://www.juniorminingnetwork.com/junior-miner-news/press-releases/352-tsx/tv/34743-trevali-mining-acquires-mining-lease-for-former-restigouche-zinc-lead-silver-mine-in-new-brunswick.html
[2] 2P Reserves as at December 31, 2021 per Trevali Mining Corp. 2021 Annual Information Form filed on SEDAR+ March 31, 2022.
[3] Press Release titled: "Canadian Copper Announces New Mineral Resource Estimate At Murray Brook: +21 Million Tonnes Containing +670 Million In-Situ Pounds Copper Equivalent" dated October 3, 3034 and filed on SEDAR+.
[4] http://cfcanada.fticonsulting.com/trevali/docs/2023-10-18%20_%20Second%20Report%20of%20the%20Receiver.pdf
Figure A: Key Target Areas at Murray Brook West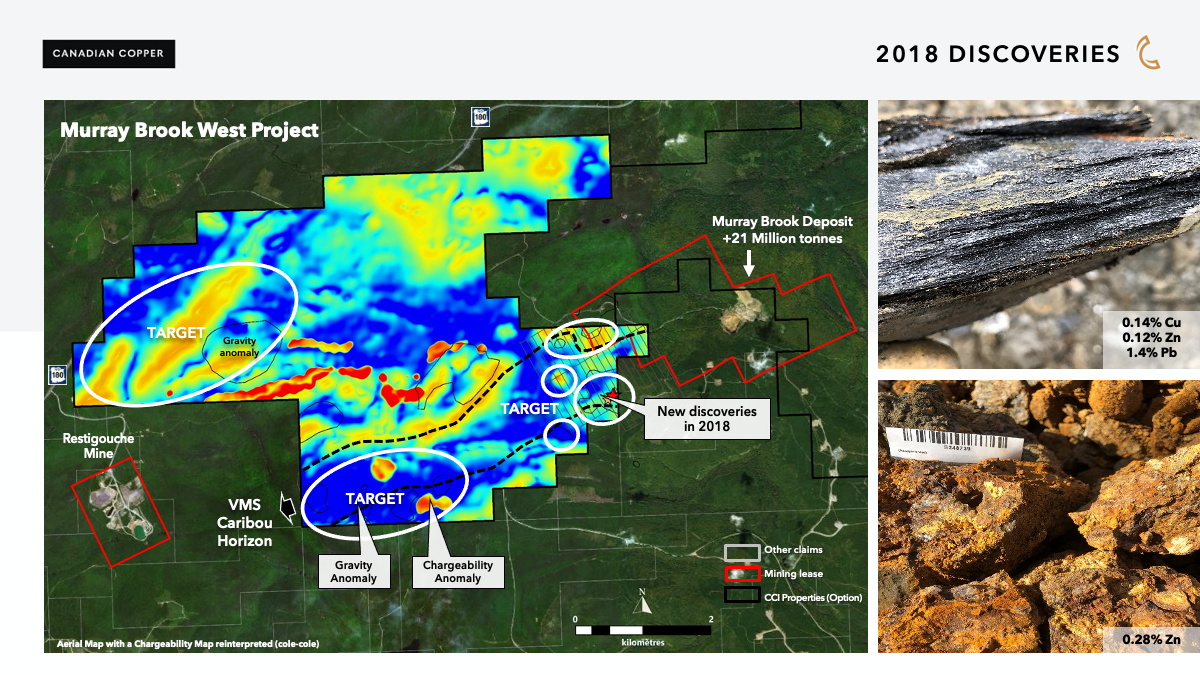 Figure A is a chargeability map over local topography. The Caribou Horizon area is a key target for prospecting.
Figure B: Active Trenching Program at Murray Brook West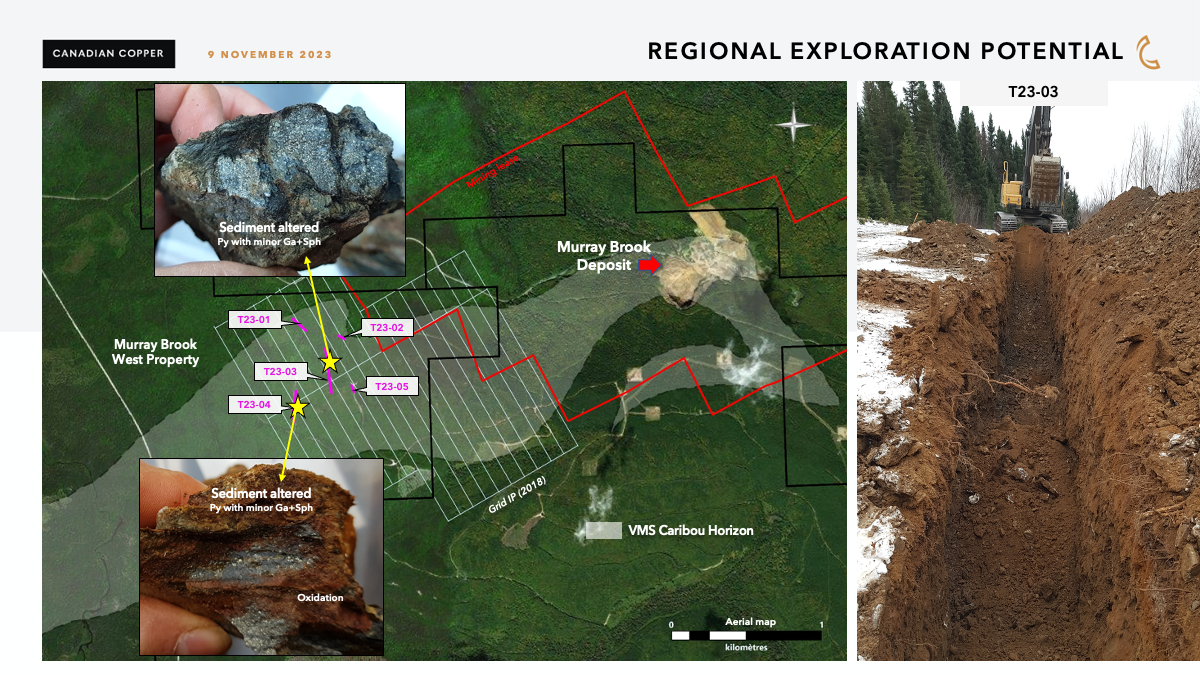 Figure C: Location Map for Murray Brook Deposit, Caribou and Restigouche Mines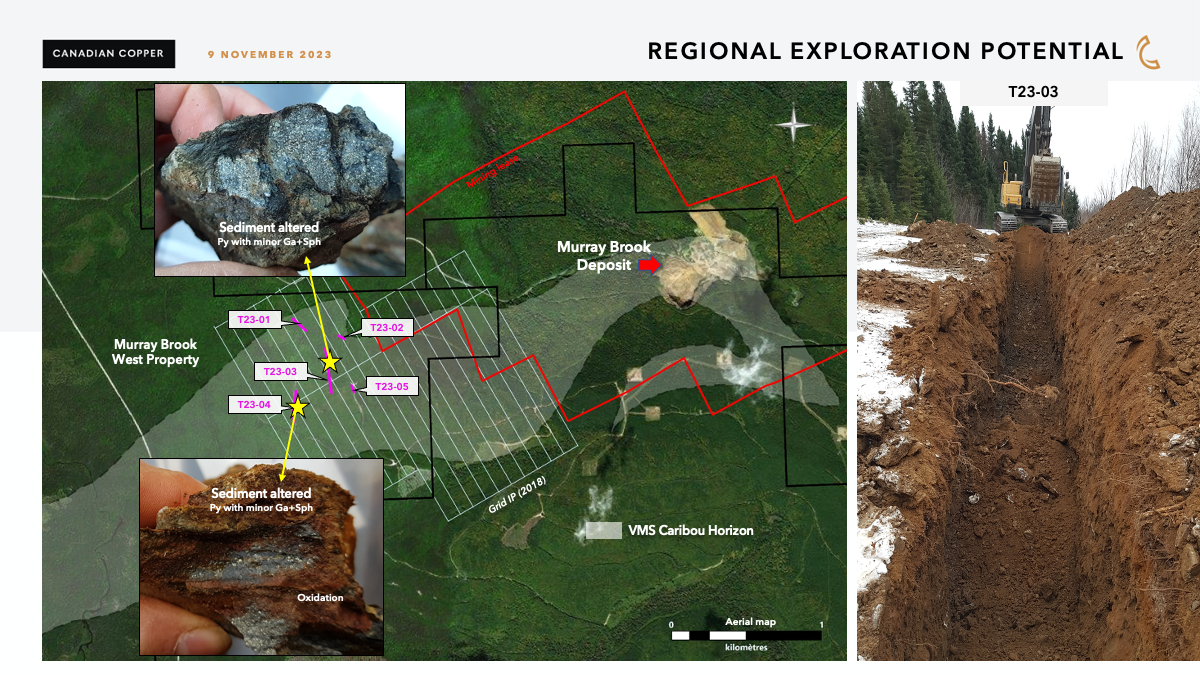 Dominique Gagné, PGeo, is a qualified person as defined by Canadian National Instrument 43-101 standards who is working for Geominex Inc., an independent contractor of the Company. Mr. Gagne has reviewed and approved the geological information reported in this news release.
About Canadian Copper Inc.
Canadian Copper is a Canadian-based mineral exploration company with a copper and base metals portfolio of historical resources and grassroots projects. The Company is focused on the prolific Bathurst Mining Camp (BMC) of New Brunswick, Canada. There are currently 85,322,540 shares issued and outstanding in the Company.