Toronto, August 2nd, 2023 – Canadian Copper Inc. (CSE:CCI) ("Canadian Copper" or the "Company") is pleased to announce that on August 1st, 2023, pursuant to the terms of a Letter of Intent ("LOI") it entered into with Votorantim Metals Canada Inc., an arm's length seller ("VM Canada" or the "Seller"), has successfully executed the definitive purchase agreement ("Purchase Agreement") to acquire VM Canada's entire 72% interest in the Murray Brook Joint Venture. Murray Brook is located in the Bathurst Camp of New Brunswick, Canada.
Simon Quick, CEO of Canadian Copper. "The signing of the definitive purchase agreement is terrific news for Canadian Copper and culminates a good faith multi-party negotiation since 2022. The Murray Brook resource contains 183 million pounds of copper, 1.07 billion pounds of zinc, 390 million pounds of lead, 42 million ounces of silver, and 339,000 ounces of gold and is in a tier 1 jurisdiction conducive to mine development.[1] This large 18 million tonne deposit is strategically situated within 10 km (Figure A) of a well-maintained concentrator facility and sits between two previous mining operations. We believe the Bathurst Camp area remains highly prospective for much-needed new critical mineral discoveries while presenting continued regional asset consolidation opportunities."
Transaction Consideration

The Company and Seller agreed to the following considerations under the LOI signed February 13, 2023. The below enumerated list provides a completed list of deliverables and obligations regarding the transaction at closing of the Purchase Agreement:
A C$250,000 deposit paid to Seller upon expiration of Right of First Refusal. (Condition satisfied)
The execution of a definitive purchase agreement. (Condition satisfied)
A C$750,000 installment to be paid by the Company to the Seller. (Condition satisfied)
The issuance of 2,000,000 units of Canadian Copper. Each unit to consist of one common share priced using the 30-day volume-weighted average price ("VWAP") ending on the date immediately prior to the closing date of the Purchase Agreement ("Unit Price") with a twelve month hold period, and one full warrant exercisable for five years at an exercise price that is a 50% premium to the Unit Price. (Condition satisfied)
A 0.25% net smelter return ("NSR") royalty on the MB asset. 50% of NSR can be repurchased by the Company for C$1.0 M. The NSR has a zinc price sliding scale defined as: <US$1.50/lb = 0.25%, US$1.50-1.59/lb = 0.50%, US$1.59-1.68/lb = 0.75%, >US$1.68/lb = 1%. (Condition satisfied)
The replacement of the Seller's bond provided to the Government of New Brunswick totaling C$2,000,000 within three months of closing the transaction. (To be completed November 2023)
A final installment of C$2,000,000 to be paid by the Company to the Seller within 31 days of commercial production.
[1] See press release titled "Canadian Copper to Acquire Large 18 Million Tonne VMS Deposit" posted on SEDAR on June 13, 2023 by Canadian Copper Inc.
Figure A: Murray Brook Deposit Location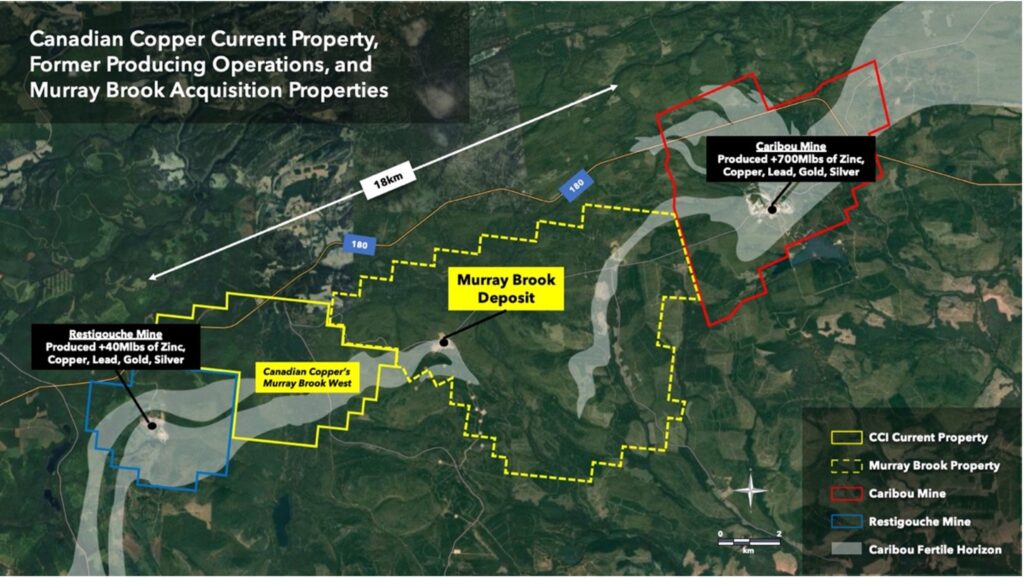 Mr. Eugene Puritch, P.Eng., FEC, CET, President of P&E Mining Consultants Inc. and independent Qualified Person as defined in NI 43-101, has reviewed and approved the scientific and technical content of this news release.
About Canadian Copper Inc.
Canadian Copper is a Canadian-based mineral exploration company with a copper and base metals portfolio of historical resources and grassroots projects. The Company is focused on the prolific Bathurst Mining Camp (BMC) of New Brunswick, Canada. There are currently 85,322,540 shares issued and outstanding in the Company.