Toronto, September 5th, 2023 – Canadian Copper Inc. (CSE:CCI) ("Canadian Copper" or the "Company") is pleased to provide a corporate update regarding its Murray Brook acquisition integration status and 2023 exploration plans.
A new Mineral Resource Estimate ("MRE") for the Murray Brook deposit was commissioned in August with expected results in late September 2023.
A 12-hole program totaling 2,300 meters permit request was submitted to the New Brunswick Department of Natural Resources in August. This program is designed to test extensions of the Murray Brook deposit this year (Figure A).
A prospecting and trenching program will begin this fall at the Murray Brook West Project (Figure B).
Simon Quick, CEO of Canadian Copper. "We are feverishly working on integrating the Murray Brook asset acquisition. There are significant value accretion opportunities within the known resource in addition to various development scenarios given its proximity to a fully furnished milling and flotation facility. In parallel, we continue to strongly believe in the regions discovery potential which is a core pillar to our growth strategy. As a result, we will both explore the known limits of the Murray Brook deposit as-well as our exciting Murray Brook West property this year."
Murray Brook Mineral Resource Estimate and Exploration Program
 
The Company commissioned P&E Mining Consultants Inc. to calculate a new MRE for the Murray Brook deposit. There are two primary reasons for this effort:
Several economic factors have improved since the previous MRE completed in 2013 that could increase the size of this large resource. Specifically, the previous MRE assumed US$/C$ exchange rate parity and lower metal recoveries for copper and lead.
A total of 6,017 meters of drilling occurred between 2017 – 2019 which is currently not included.
The Company is targeting release of the new MRE in late September. The results of this model are also integral in planning our next exploration efforts at the project.
The objective of the Murray Brook exploration program is to test a new copper stringer zone starting from surface that was discovered in 2019 (MB19-01: 1.35% Cu, 19 g/t Ag, 0.18 g/t Au over 26.4 meters[1]). The Company expects to begin this program this year. Previous drilling results on this new zone can be found here.
Murray Brook West Exploration Plans
 
The Murray Brook West property is located directly adjacent to the Murry Brook deposit and encompasses the same geologic horizon as neighbouring Caribou and Restigouche deposits. Initial prospecting efforts will begin at Murray Brook West this year. Activities will include prospecting and trenching across the favorable Caribou Horizon shown in Figure B.
Figure A: Murray Brook Proposed Drilling Areas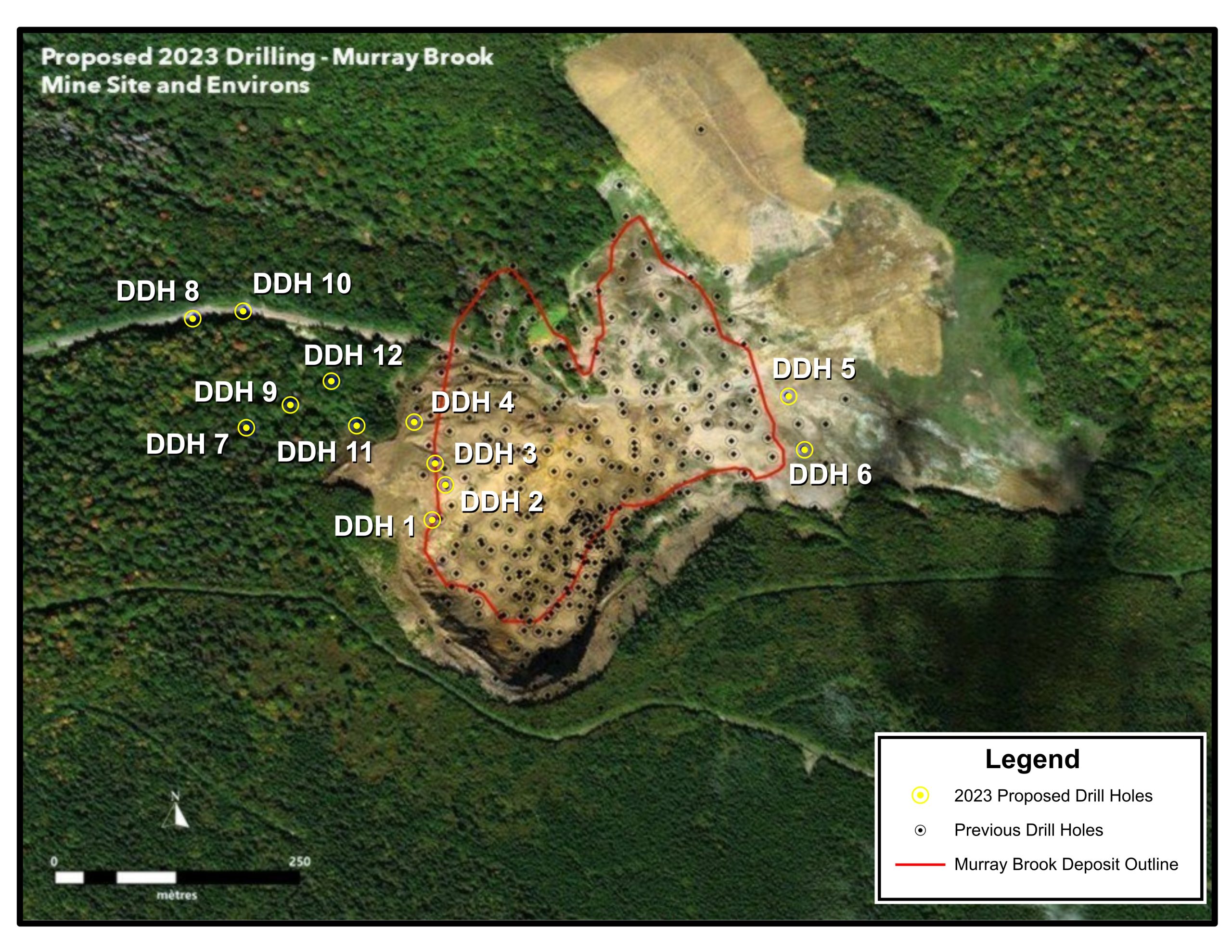 Figure B: Murray Brook West Prospecting Plan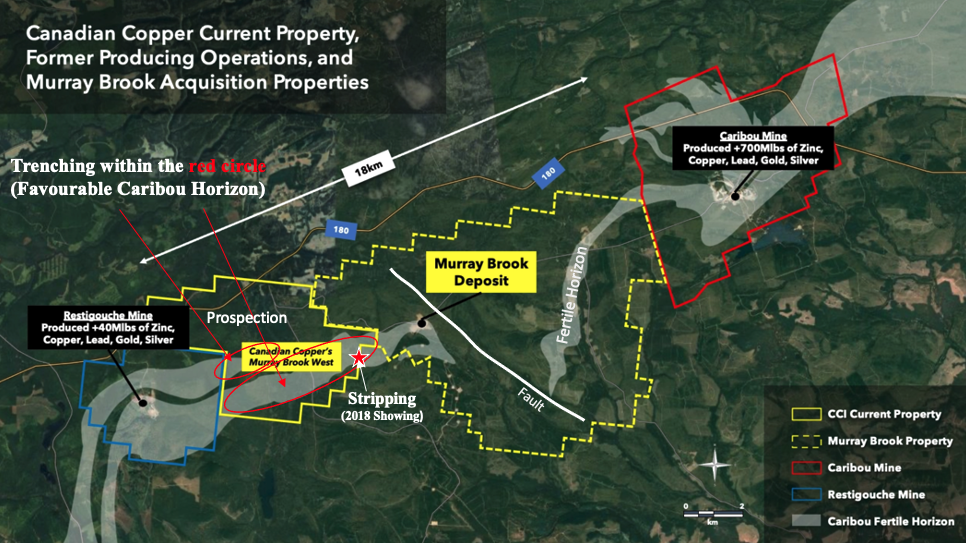 __
[1] https://www.explorationpuma.com/en/puma-exploration-discovers-a-new-copper-zone-at-murray-brook-hole-mb19-01-intersected-1-35-cu-19-g-t-ag-and-0-18-g-t-au-over-26-4-meters/
Qualified Persons

Mr. Eugene Puritch, P.Eng., FEC, CET, President of P&E Mining Consultants Inc. and independent Qualified Person as defined in NI 43-101, has reviewed and approved the scientific and technical content of this news release.
About Canadian Copper Inc.

Canadian Copper is a Canadian-based mineral exploration company with a copper and base metals portfolio of historical resources and grassroots projects. The Company is focused on the prolific Bathurst Mining Camp (BMC) of New Brunswick, Canada. There are currently 85,322,540 shares issued and outstanding in the Company.