Toronto, February 28th, 2023 – Canadian Copper Inc. ("Canadian Copper" or the "Company") (CSE:CCI) is pleased to report results from its November and December 2022 trenching program at the Chester Project ("Chester") located in the well-known Bathurst Mining Camp ("BMC") in Northern New Brunswick, Canada.
"This initial +4000 meter ("m") trenching program was designed to broadly test geophysical anomalies at the property-scale, that exist within the favourable Clearwater horizon, which is the host to the Chester Deposit. Trench T22-01 is more than 5km northwest from the known Chester copper resource and has outlined a large anomalous base metals sulphides (Cu, Pb, Zn) at surface measuring 100m by 30m. The mineralization is present as stringers and disseminated pyrite, pyrrhotite, sphalerite and chalcopyrite within an altered mafic volcanic unit. Recent results obtained are 0.75% Zn, 0.46% Cu and 0.59% Cu (Figure A).
These results are encouraging, indicating there may be more mineralized systems on the property. This initial program will help us develop our next phase of trenching to further refine this target in the spring. Our systematic exploration strategy of trenching and rock sampling first ensures a cost-effective use of our drilling capital." Simon Quick, CEO of Canadian Copper. 
Next steps for these new areas:
T22-01 – assay results warrant additional field work including trenching, stripping, and detailed geologic mapping (Figure B). A ground EM survey is being considered pending additional field work results for this season. For lithology descriptions and T22-01 assay table, please click

here

.
T22:13 – this quartz vein mineralization returned 14.85 g/t Ag and 0.22% Pb. Next steps will include expanding and clearing more of the quartz vein area for detailed mapping and sampling to determine possible extensions of the mineralization.
FIGURE A: NEW MINERALIZED AREA MAP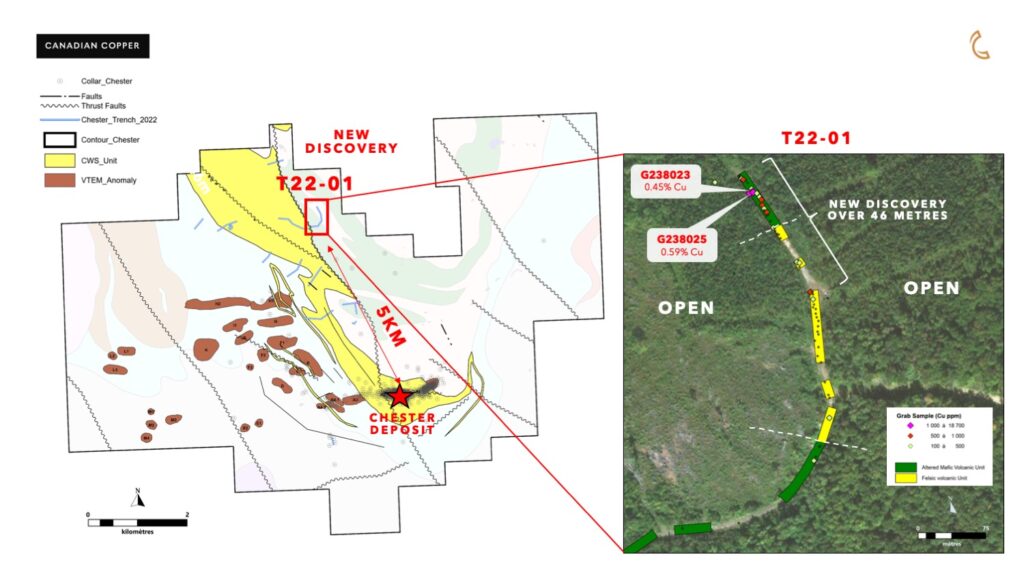 FIGURE B: T22:01 TRENCHING DETAILS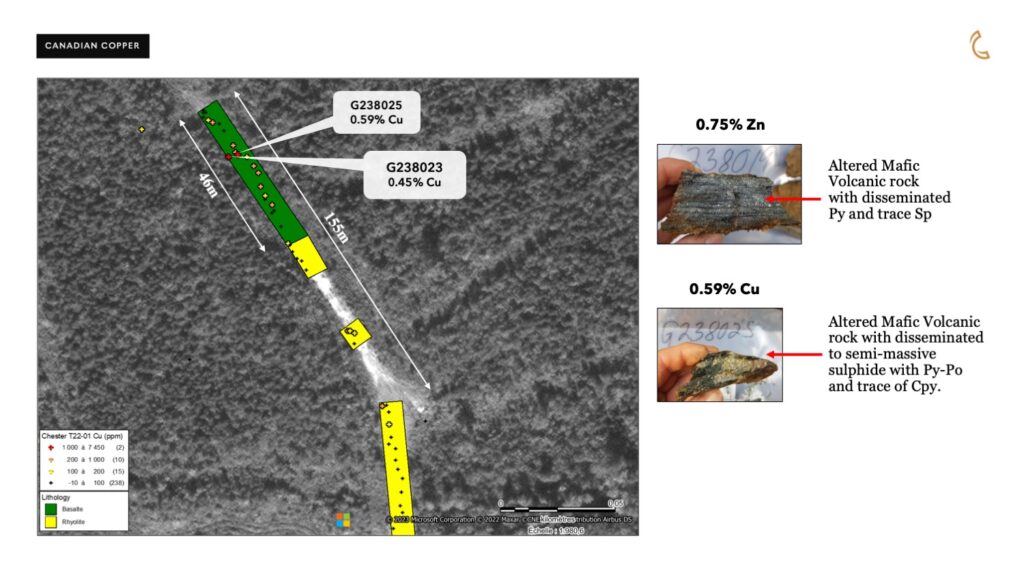 Chester Project Mineral Resource Estimate ("MRE")
Announced November 1, 2022, this MRE for Chester is based on data with a cut-off date of August 31, 2022. The MRE is reported with an effective date of October 27, 2022.
Table 1: Open Pit Mineral Resource Estimate at a cut-off of 0.5% copper*

About the Chester Copper Project
The Chester copper deposit ("Chester") is a volcanogenic massive sulphide ("VMS") resource containing three zones; the Central Zone (massive sulphide), the East Zone (massive sulphide), and the West Zone (Copper Stringer), which are all located near surface. Previous mining development in 1974 included a 470-meter decline targeting the West Zone and produced 30,000 tonnes of bulk samples grading +2.0% Cu (Geoscience Canada, McCutcheon, 2020). No other development has occurred on the property.
About the Bathurst Mining Camp
The Company is focused on the prolific Bathurst Mining Camp of New Brunswick, Canada. This region is a world class mining district with thirteen former mining operations and hosts more than forty-five known volcanogenic massive sulphide ("VMS") deposits. Our flagship Chester Project is 75 km south of the renowned Brunswick #12 mine that operated for 5 decades. New Brunswick has the modern infrastructure needed for mineral exploration and mine development coupled with a clear and well-established regulatory environment.
Qualified Persons
Dominique Gagné, PGeo, is a qualified person as defined by Canadian National Instrument 43-101 standards who is working for Geominex Inc., an independent contractor of the Company. Mr. Gagne has reviewed and approved the geological information reported in this news release.
About Canadian Copper Inc.
Canadian Copper is a Canadian-based mineral exploration company with a copper and base metals portfolio of historical resources and grassroots projects. The Company is focused on the prolific Bathurst Mining Camp (BMC) of New Brunswick, Canada.