Toronto, September 12th, 2023 – Canadian Copper Inc. (CSE:CCI) ("Canadian Copper" or the "Company") is pleased to announce that, pursuant to the terms of a Letter of Intent ("LOI") it entered into with MetalsQuest Mining Inc., an arm's length seller ("MetalsQuest" or the "Seller"), it intends to acquire MetalsQuest's entire 28% interest in the Murray Brook Joint Venture. With the completion of this acquisition, Canadian Copper will control 100% of the Murray Brook deposit.
"Acquiring the remaining 28% ownership of the Murray Brook deposit builds on the strategic value for this large critical mineral asset. Consolidating 100% control removes minority owner provisions enabling us to explore new partnerships, financing alternatives, and possible development scenarios." commented Simon Quick, CEO of Canadian Copper. "With a new Mineral Resource Estimate to be delivered this month, Canadian Copper is moving quickly to establish itself as a growing junior base metal explorer with a large resource base in a tier 1 Canadian jurisdiction." he added.
The strategic merits of this transaction for Canadian Copper shareholders can be found here as previously illustrated on June 13th, 2023.
Transaction Detail

The Company and Seller have agreed to the following considerations under the LOI signed September 11th, 2023, which is subject to exchange approvals, and the execution of a definitive purchase agreement ("PA"):
A C$100,000 deposit paid to Seller upon signing LOI and commencement of five-month
exclusivity arrangement ending January 31st, 2024.
A C$200,000 to be paid by the Company to the Seller upon PA execution.
The issuance of 2,500,000 units of Canadian Copper. Each unit to consist of one common share priced using the 30-day volume-weighted average price ("VWAP") ending on the date immediately before the closing of the PA ("Unit Price") with a four month hold period plus one day after which, 25% of the total units shall be released to MetalQuest every three months (a "quarter") resulting in 100% of the units being released to MetalQuest after four (4) quarters from the conclusion of the initial hold period, and one full warrant exercisable for five years at an exercise price that is a 50% premium to the Unit Price.
A 0.33% net smelter return ("NSR") royalty on the MB asset. 50% of NSR can be repurchased by the Company for C$1.0 M.
A final installment of C$1,000,000 to be paid by the Company to the Seller within 31 days of commercial production.
After the Company satisfies conditions #1-4, Canadian Copper will have completed its purchase of the remaining 28% interest in the Murray Brook Joint Venture. Please see updated corporate presentation here for additional information.
Figure A: Property Location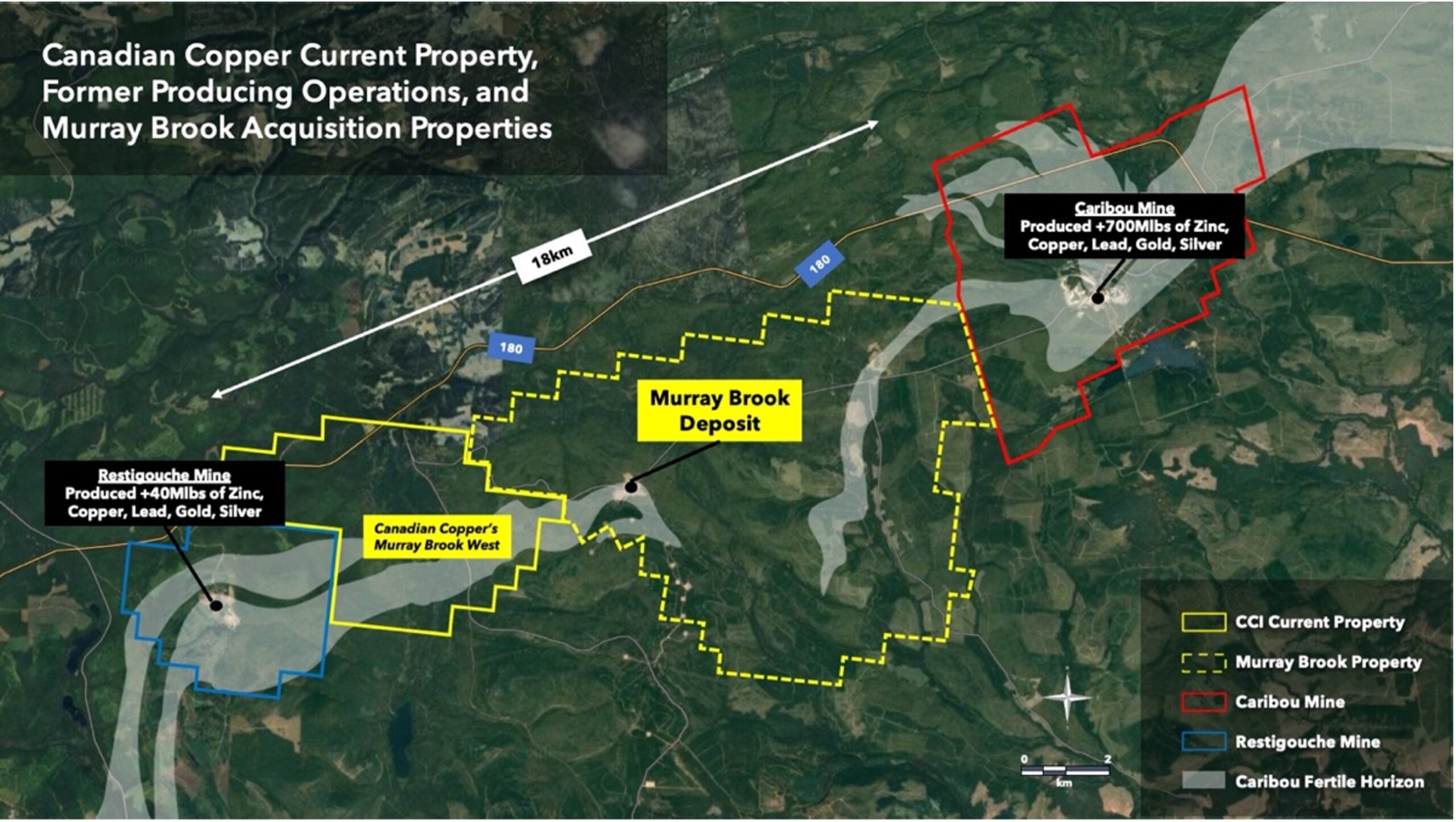 About Canadian Copper Inc.
Canadian Copper is a Canadian-based mineral exploration company with a copper and base metals portfolio of historical resources and grassroots projects. The Company is focused on the prolific Bathurst Mining Camp (BMC) of New Brunswick, Canada. There are currently 85,322,540 shares issued and outstanding in the Company.