Toronto, November 14th, 2022 – Canadian Copper Inc. ("Canadian Copper" or the "Company") (CSE:CCI) is pleased to provide an update on its property-wide 2022 trenching program at the Chester Project ("Chester") located in the well-known Bathurst Mining Camp ("BMC") in Northern New Brunswick. Provincial funding for the Chester Project was also applied for and successfully approved under the New Brunswick Junior Mining Assistance Program ("NBJMAP") totaling $20,000 which will be allocated to this current 2022 exploration program.
"The NBJMAP financial assistance program is just another excellent example of New Brunswick's continued support for the exploration sector. The Chester Project has underexplored geophysical and geochemical anomalies located to the northwest and northeast of our property package. These areas are situated within the favourable stratigraphic Clearwater horizon and are greater than 5 kms away from the known Chester Deposit. Our systematic exploration strategy of trenching and rock sampling first will help cost effectively define the 2023 exploration plans for the Project." — Simon Quick, CEO of Canadian Copper.
Trenching Program Specifics:


Our exploration team and equipment mobilized in early October, 2022 and commenced active trenching on Priority A areas.


Priority A targets include a total of 10 trenches over 3,500 meters. To date, 5 trenches for ~2,500 meters has been completed. Several sites show significant mineralization in Po-Py-Cpy at surface within the Clearwater stratigraphic horizon, the same host horizon as the Chester Deposit.


Priority A targets are focused on the northwest areas (Figure A), and Priority B targets will be explored pending the onset of winter or in the spring of 2023.


Targets were developed using a combination of geochemical (soils), geophysical surveys (VTEM), and following the favourable Clearwater horizon.
Drone videos of our trenching and prospecting activities:
Figure A: Active Trenching Program at Chester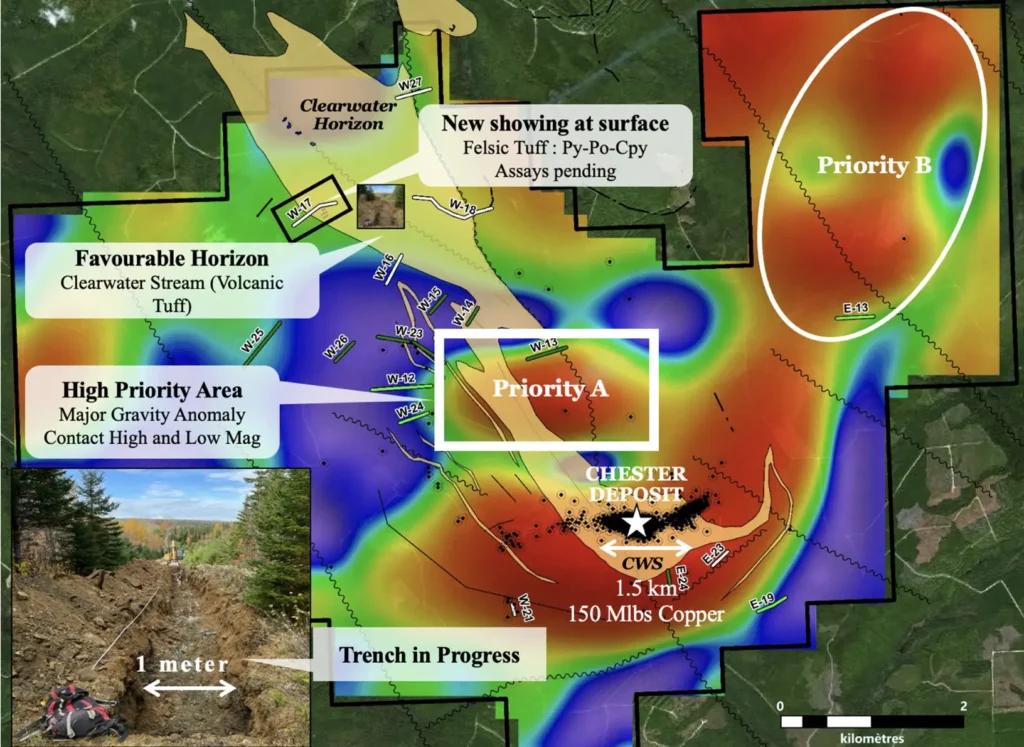 Figure A Description Support: This is a total magnetic map over local topography and geology. Warmer red colours indicate magnetic rocks, whereas cooler blue colours represent rocks which are not. Areas within the hotter magnetic colours, that occur within the Clearwater Horizon remain target prospecting areas.
New Chester Project Mineral Resource Estimate ("MRE")
This MRE for Chester is based on data with a cut-off date of August 31, 2022. The MRE is reported with an effective date of October 27, 2022.
Table 1: Open Pit Mineral Resource Estimate at a cut-off of 0.5% copper*

About the Chester Copper Project

The Chester copper deposit ("Chester") is a volcanogenic massive sulphide ("VMS") resource containing three zones; the Central Zone (massive sulphide), the East Zone (massive sulphide), and the West Zone (Copper Stringer), which are all located near surface. Previous mining development in 1974 included a 470-meter decline targeting the West Zone and produced 30,000 tonnes of bulk samples grading +2.0% Cu (Geoscience Canada, McCutcheon, 2020). No other development has occurred on the property.
About the Bathurst Mining Camp

The Company is focused on the prolific Bathurst Mining Camp of New Brunswick, Canada. This region is a world class mining district with thirteen former mining operations and hosts more than forty-five known volcanogenic massive sulphide ("VMS") deposits. Our flagship Chester Project is 75 km south of the renowned Brunswick #12 mine that operated for 5 decades. New Brunswick has the modern infrastructure needed for mineral exploration and mine development coupled with a clear and well-established regulatory environment.
Qualified Persons


Dominique Gagné, PGeo, is a qualified person as defined by Canadian National Instrument 43-101 standards who is working for Geominex Inc., an independent contractor of the Company. Mr. Gagne has reviewed and approved the geological information reported in this news release.
About Canadian Copper Inc.
Canadian Copper is a Canadian-based mineral exploration company with a copper and base metals portfolio of historical resources and grassroots projects. The Company is focused on the prolific Bathurst Mining Camp (BMC) of New Brunswick, Canada.